BlueBip
Alti-variometer, highly reactive, customizable and solar-powered with
Bluetooth connection for Android and iPhones!
The BlueBip is an ultralight Bluetooth vario audio system tailor-made for paragliding. Thanks to its Bluetooth connectivity, it connects to your smartphone or tablet as soon as you switch it on, providing ultra-precise flight information.
Equipped with high-precision sensors, it measures instantaneous Vz, barometric altitude, glide ratio and more.
Powered by SunPower solar technology, it recharges continuously, providing over 100 hours of autonomy.
Its Instant Vario technology and exclusive acoustics offer an intuitive and pleasant flying experience. And you can customize it with our powerful configurator.
Made in France with over 10 years of expertise and innovation, the BlueBip is the essential tool for paragliders looking for simplicity and reliability.
Features list
Bluetooth Low Energy (BLE)

iOS and Android connectivity to most flight apps (XCTrack, FlySkyHy, SeeYou Navigator, etc)

Solar powered with internal battery (up to 100h of runtime without sun)

High performance SunPower solar cell

Instant Vario Technology (MEMS pressure + accelerometer + gyroscope)

Lift sensitivity, lift reactivity, sink alarm, weak lift detector configurable via the single button and via the Stodeus Configurator web-app

Graphic Vario Tone Editor

Friendly web-app

5 volume levels: 95dB (low, medium, high, boost, silent)

Auto take-off detection (can be disabled)

Auto power-off

USB-C for configuration and updates

Headset connection with our USB-C to Jack 3.5mm adapter (see Accessories section)

Compact (5,8 x 3,6 x 1,4 cm)

Ultralight (26gr)
Highlights
What's in the box
1 BlueBip instrument

1 USB-C to USB-A cable

2 adhesive velcros

1 lanyard

1 user manual
Recommended Retail Price BlueBip :  325 NZ$*  
NEW
Standard shipping included: 2-4 days if shipped from NZ , or 8-10 days delivery time (approx.), with EMS, tracking number and insured if shipped from the manufacturer. Express Courier service (DHL or Cronopost) insured and tracking number is possible for 85 NZ$ extra.
No strings attached.
BlueBip connects via Bluetooth Low Energy (BLE) to your smartphone or tablet (Android and iOS) as soon as you switch it on.
It lets you use flight applications such as XCtrack, FlySkyHy, SeeYou Navigator, and many others, sending ultra-precise flight information such as barometric altitude, atmospheric pressure, rate of climb and descent, and more.
Thanks to their small size, they can be attached to helmets, harness straps or cockpits.
As theUltraBipThe BlueBip is the essential ally of the Submarine harness for pilots seeking maximum performance in cross-country and competition flying.
You can also add a screen to your BlueBip, thanks to ActiveLook connected glasses.
The BlueBip has no internal GPS. In the range, the UltraBip is Stodeu's most advanced instrument, with a GPS logger.
Learn about it's Bluetooth connectivity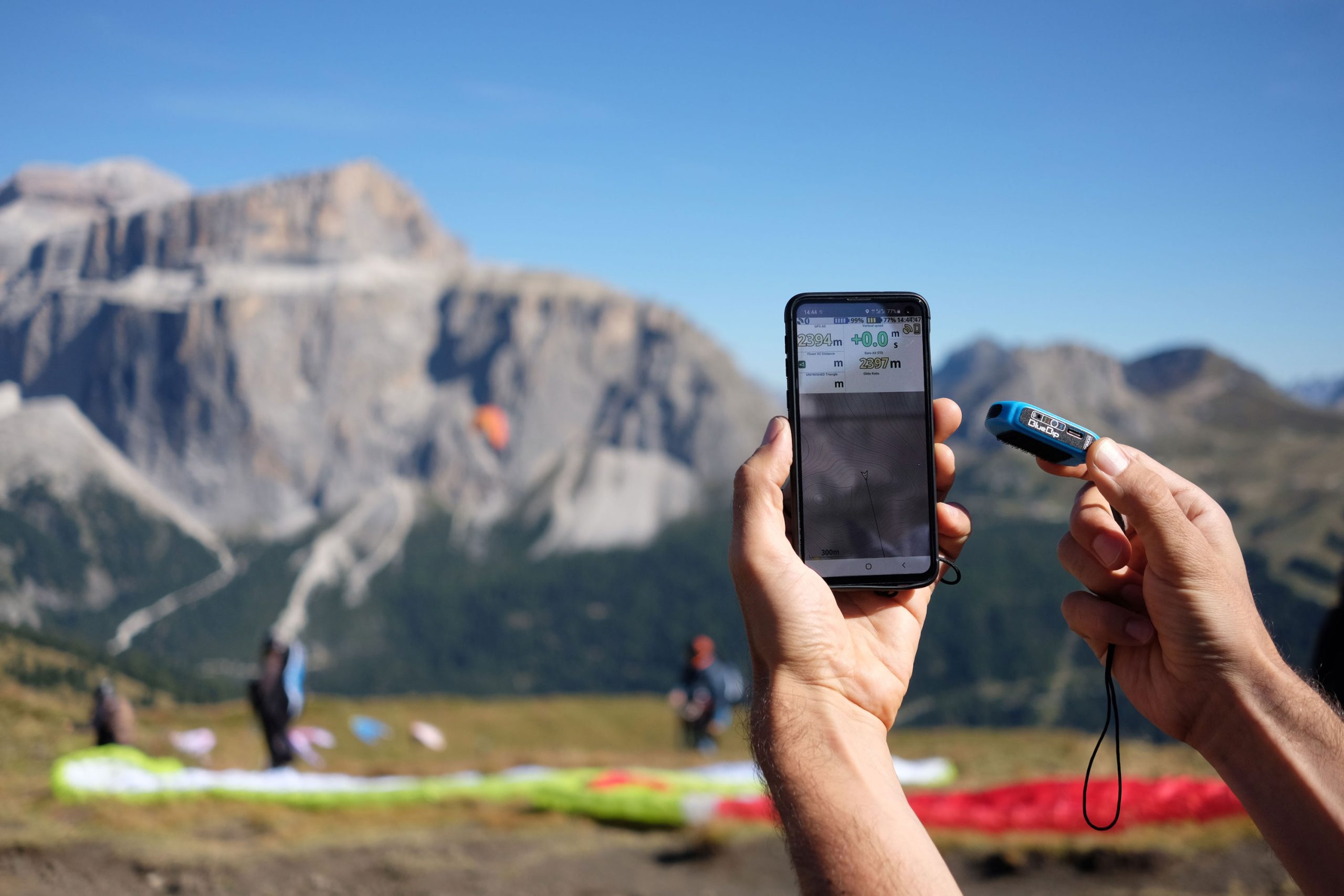 Precise measurements for efficient flying.
The BlueBip is a self-contained solar instrument designed specifically for paragliding.
It combines the functions of a solar-powered audio variometer and a "sensorbox" that groups together several sensors such as a pressure sensor, accelerometer and gyroscope (inertial measurement system).
These sensors transmit instantaneous and integrated Sink rate (over 15s), exact glide ratio and precise barometric altitude to the flight app.
The BlueBip's built-in sensors offer far greater precision and are specially adapted for use in paragliding, surpassing the sensors found in smartphones.
The data measured by the BlueBip is transmitted via Bluetooth connectivity to the flight app (Android and iPhone), using different protocols and standards. Thanks to this flexibility, it is directly compatible with most flight applications available on the market.
SUNPOWER TECHNOLOGY
Fly solar-powered.
Free your mind and go fly without thinking about the battery level!
The BlueBip is solar-powered, with a high-performance SunPower solar cell delivering an impressive 193mW.
This new solar cell is thinner and more rugged thanks to an extra layer of PET/EVA, protecting it against drops and scratches.
The instrument recharges continuously, even when switched off. Additional solar energy is stored in a high-capacity internal battery, giving you over 100h of autonomy without sunlight.
EXCLUSIVE ACOUSTIC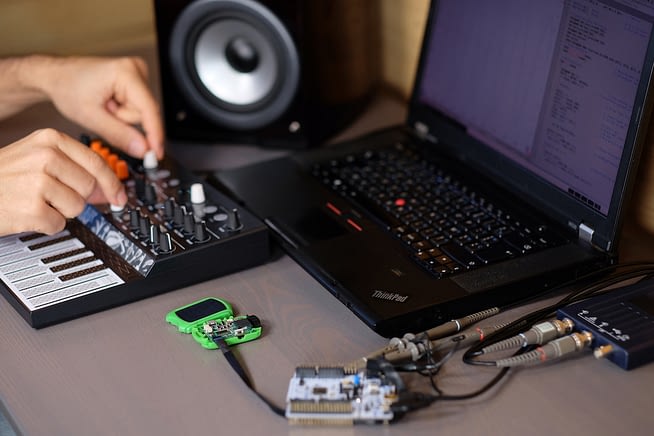 Loud and clear.
We made a quick benchmark on the audio volume of various mini variometers on the market and the result is impressive. A difference from 10 to more than 20dB means a volume up to 4 times louder.
5 volume levels are available for even more comfort, including a silent with a blinking LED. You will hear the BipBip PRO loud and clear whether you use it on your helmet (even full-face helmet), shoulder strap, riser, or even your cockpit. The volume can be changed in a jiffy in flight with a simple push on the button.
Measurements in dBA with decibel meter UNI-T UT353.
Much more than just beeps
The BlueBip has a new onboard buzzer and a tailor-made amplifier specially designed to produce a loud and clear sound. This way, a wide range of volume levels (95dB at maximum volume) is available without even a dent in the run time.
Mini variometers are famous for having a harsh tone. Stodeus has developed exclusive acoustics that deliver sweet tones to the ear, allowing you to fly in complete serenity. The BipBip PRO has an onboard audio synthesizer to generate sound with envelope modulation (known as ADSR), producing intuitive and enjoyable beeps.
VARIO PROFILES & CUSTOMIZATION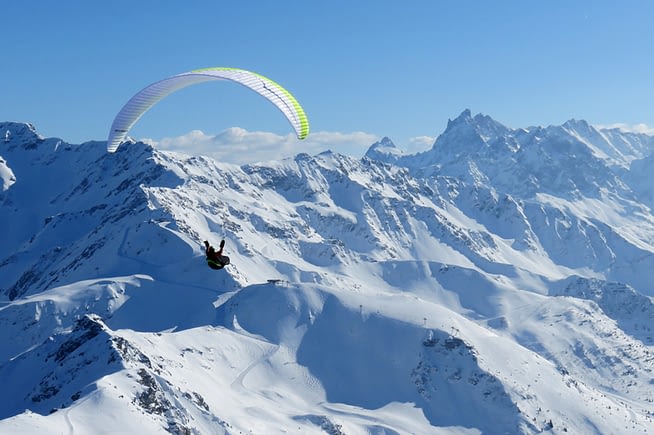 Your rhythm.
Stodeus developed a new exclusive filtering algorithm for paragliding, with an adjustable setting to choose the response time fitting you the best.
Long integration time gives a more dampened, integrated response for a better understanding of the lift information. Good for weak Winter thermals with wide turning radius.

Short integration time has an almost instant response. Ideal for chopped-down thermals or lee side during Spring.
A device to fly with your style.
Whether you are looking for uncompromising performance or you are more interested in contemplating the sunset, we've got you covered. The settings available let you tune the instrument to your style with new advanced settings, as well as 2 audio profiles :
Long & progressive beeps for more detailed information during the lift.

 

Short beeps for clean and effective lift information.

 
TAKEOFF DETECTION
Take off, the vario beeps.
The feature previously available on competition-oriented instruments, takeoff detection, mutes the vario until takeoff. Thus with BlueBip, pre-flight check and waiting for optimal take-off conditions are distraction-free (and for your buddies too).
The vario can be activated on the ground simply by changing the volume. Also, takeoff detection can be disabled in the configuration menu.
WEAK LIFT DETECTOR
Don't miss a thermal.
BlueBip weak lift detector is a short buzz modulation indicating a weak lift (from -30cm/s to +10cm/s), not worth turning but can give you a hint of a stronger thermal nearby.
On the drawing, the grey pilot doesn't have the weak lift detector activated. The green pilot has it activated, and when he reaches a weak lifting area, the buzzer helps him to find the thermal core.
ULTRA COMPACT & ULTRA LIGHT
Smaller and lighter than a matchbox.
Even more compact, robust and scratch-resistant than its predecessors, the BlueBip is an ultralight audio vario.
Its featherweight of 26g will allow you always to leave it on your equipment, whether for calm morning flights, bivouac flights or long technical cross-country flights.
Its multiple settings and possible uses make it indispensable for the beginner paraglider and the competitor looking for a reliable vario on which he can always rely.
STATE-OF-THE-ART TECHNOLOGY MADE IN FRANCE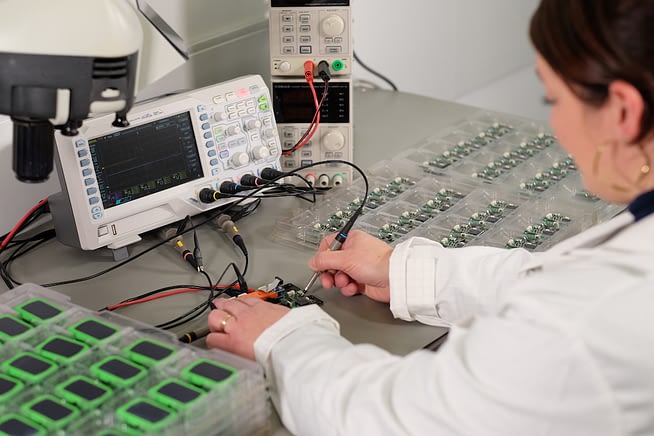 10 years of expertise and innovation.
Leader in solar paragliding instruments, Stodeus Paragliding pushes the limits again and redefines solar audio vario standards.
Stodeus is also very lucky to be supported by a large community of passionate pilots, helping them in this innovation process, always looking for the best. This guarantees trust and quality, developed with famous French pilots on legendary spots (Annecy, Saint Hilaire du Touvet, Gourdon, Organya).
Made in France quality.
From the very beginning of the adventure, each instrument has been designed and manufactured in France. So Stodeus can offer premium quality products. Every single product is fully assembled and quality checked in their factory in Grenoble, in the heart of the French Alps.
These instruments are also designed with serviceability; we offer spare parts and repair services if needed.
All Stodeus products are covered with a two-year warranty.
COMPARE